We had the opportunity of an exclusive interview with rawstyle heavyweights Gunz for Hire. See how it went down below!
In the pulsating realm of electronic dance music, there exists a subgenre that stands out for its raw power and high-octane energy – Hardstyle. It's a musical phenomenon that has captured the hearts of ravers and music enthusiasts worldwide, elevating them to a state of euphoria through its thunderous beats and relentless melodies.
Among the select few who have masterfully harnessed the essence of Hardstyle, we find the dynamic duo known as Gunz for Hire. With an impressive legacy behind them, Gunz for Hire has been crafting their sonic signature and captivating audiences with their earth-shaking performances for years. Join us as we embark on a journey of bass-driven euphoria and explore the very core of Hardstyle through the eyes of Gunz for Hire – a duo that has left an indelible mark on the global dance music stage.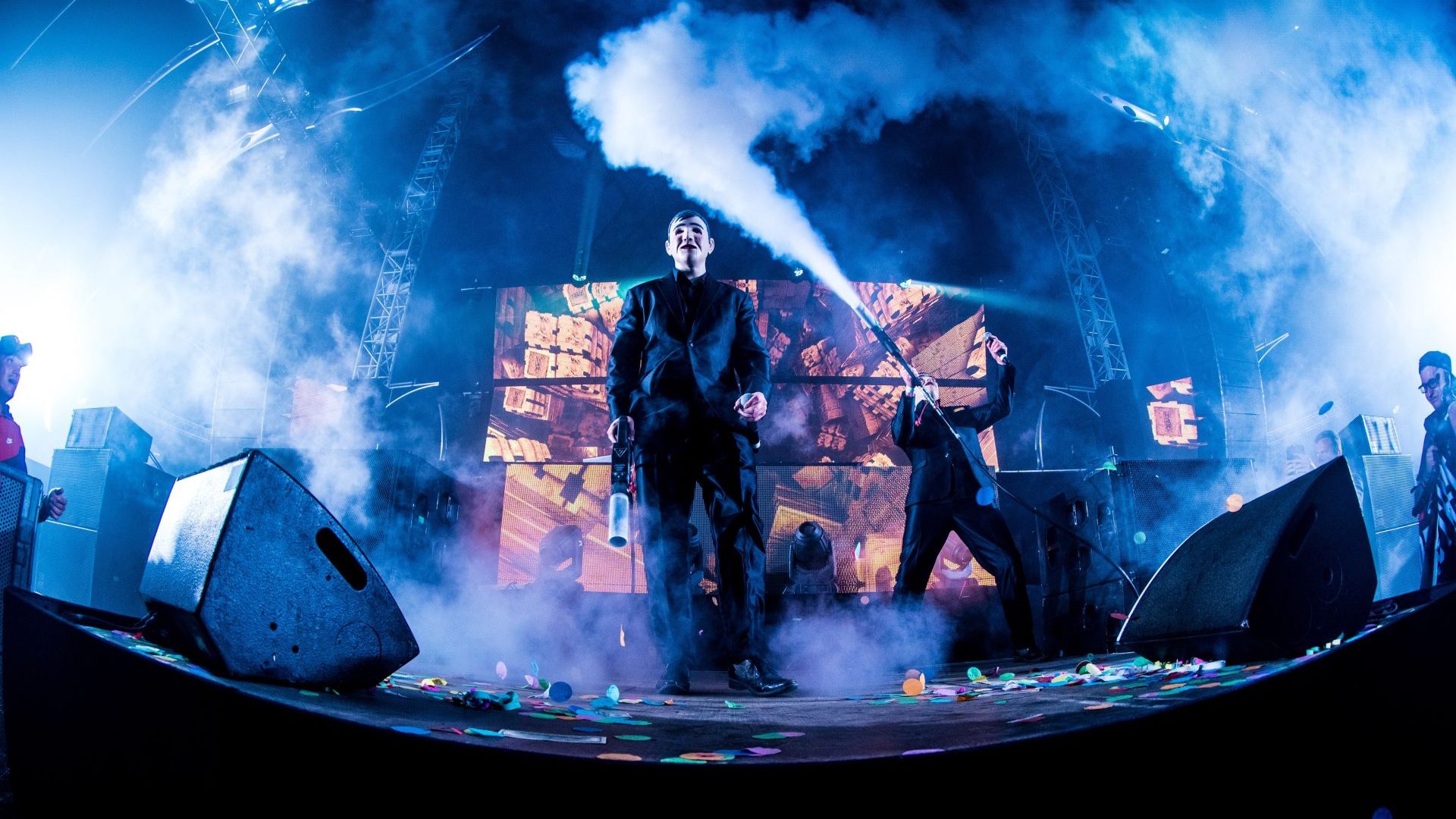 Exclusive Interview
Hi Thijs and Randy, thanks for taking your time! This is Anna from Soundrive, great to talk to you again!
"Hi Anna, thanks for having us, always a pleasure!"
I think it's safe to say that Defqon.1 2023 was a huge success for both of you, having your unique performances, a Gunz For Hire Show and Spotlight and even the Defqon.1 Legends this year. What were your thoughts when being asked to perform the Legends Show with B-Front?
"The Legends show is a big honour and we were very happy with the question. B-Front is an artist who started around the same time as us and has been a good friend since the beginning. Our sounds combine in a very nice way and if we look back, all the reactions afterwards were very enthusiastic and positive. It was a day we will never forget."
How do you adapt all your sets for a festival like Defqon.1, when you play more than once, to switch it up for the people who will see all of them?
"That was quite easy this year. In the Legends set you play your "biggest" tracks from throughout your career, we didn't play any recent tracks in there. in our normal sets we played recent material with a few new Gunz tracks in there and with Gunz For Hire you hear 100% G4H tracks with always some exclusives you only hear at Gunz For Hire live. So we will make sure it will always be interesting for the die-hards who follow us closely."
Besides being well renown solo artists, with Gunz For Hire you have established a unique identity in the hardstyle scene. What changes for you while producing music for Gunz For Hire, compared to your solo acts, or other collaborations?
"With Gunz For Hire, since the last 1,5 years we made the decision to go more back to our roots, G4H is hard and raw. You will also hear more tracks with a unique dark Gunz sound in our sets. And with raw we mean it in a broad sense, so there can still be melodies and singing vocals in there but it has to have that Gunz feeling. We decided that the tracks that don't have that real Gunz raw feeling will be "Ran-D & Adaro" collabs in the future. In our solo tracks and other collabs, we can go all directions, we like several things."
Now, that you achieved most milestones there are for artists in this genre, what are some goals that you are still working towards, or is it more about maintaining the status you have by now?
"Maintaining the status and keep on evolving our sound and surprising the people with new Gunz tracks are always goals for us. Besides this we want our shows to be unique when it comes to the vibe with unique visuals, SFX, live performances from singers and rappers who we've collaborated with. We want to give the people a unique experience with a Gunz show."
You two really are the Baddest On The Block with your uniquely raw tracks. What makes G4H music so recognizable, during a time where Rawstyle is still peaking in popularity, with no decline in hype to be seen anytime soon?
"You can never predict what the hype in raw will do in the future. We want to avoid making generic tracks. There will always be a nice theme or idea in there, in the recognizable Gunz style."
Lastly, which of your amazing performances last weekend was your favourite and what made it so special to you?
"We had an amazing Defqon.1 experience with only highlights, but the Legends set was so special that it will always be in our hearts. You see with other Legends sets that they will be viewed on on the Q-Dance Network and YouTube for years to come, so it will have a long aftermath, which is awesome."
Thank you so much for your time, I can't wait to sing along and dance to your music at the next events in July. 
"Thanks again and see you at a future party, we can't wait to make you dance again!"
About Gunz for Hire
Back in the depths of 2011, two like-minded musical connoisseurs united, with the sole mission to represent the shadowy underground of raw hardstyle… Armed and ready, this cutting-edge duo has conquered and revolutionised the game in more ways than one, and guess what? There's absolutely no stopping them on their quest for domination!
Consisting of two hardstyle heavyweights and long-time comrades. Gunz For Hire was conceived through both a musical and performance-driven bond that neither could ignore. Pooling their resources, the pair sent their liaison into orbit with initial releases "Put It On," "Kings Of The Underground" and of course, their epic knockout "Bolivia." Instantly conquering the scene with their signature badass sound, Gunz For Hire also displayed their gangster legacy through staggering, multi-climactic live-shows that swept up audiences up into a frenzy! With several noteworthy tours circulating around a thematic core, Gunz For Hire have taken concepts such as 'Sorrow,' 'The Resistance,' 'Gangsters Paradise' and 'No Mercy' to the world's biggest stages, performing in Australia, Chile, South Korea, the Netherlands, the United States, Scotland, Germany, Austria, Italy, Spain, Canada, Sweden, Belgium and France.
In recent times, Gunz For Hire have reigned the hardstyle scene with an abundance of smashing anthems, including the rebellious "Plata O Plomo," anarchical "I'm A Criminal" and dance-floor destroying hit "No Mercy." Fulfilling their duty to unlock new musical dimensions, Gunz For Hire are unquestionably the most successful and perseverant Hardstyle live-act. Determined to continue reaching out and uniting gangsters from all around the globe with their brazen, daring sound, Gunz For Hire open up a new chapter of thrilling missions and underground activities – all loaded up with heavy artillery!
Soundrive Music
Soundrive Music has earned a reputation as the foremost global hub for all things EDM. With a presence in over 125 countries, it has swiftly become a trusted and esteemed source for electronic dance music news, reviews, interviews, and features catering to DJs, artists, and labels alike. Beyond its extensive coverage of the EDM scene, Soundrive Music provides a platform for aspiring DJs and artists to showcase their talents. Through a diverse range of events and collaborations with leading industry players, it creates opportunities for emerging talent to gain exposure and advance their careers.
From breaking news and cutting-edge music releases to in-depth interviews with industry titans, Soundrive Music is committed to delivering the most up-to-date and comprehensive information on the world of electronic dance music. Soundrive Music's headquarters are located in London, United Kingdom, founded on April 19 of 2016 in Helsingborg, Sweden by Jacques Maurice Julie and Darren Johnathan Bezuidenhout and originally known as UFO Network with record label UFO Recordz.
The company was acquired by Soundrive Music LTD in early 2023 and have rebranded since. Soundrive Music LTD or better known as Soundrive HQ is not to be confused and is not associated with Soundrive Music Festival or Soundrive Records.
Listen to Candyman on Spotify!
Connect with Gunz For Hire
Connect with Anna Prassl