One of the pioneers of the "trance fusion" style of live electronic music, The Disco Biscuits (tDB) are kicking off 2022 with a jam-packed nationwide tour. In continuation of their March concerts, the 27-year-old band recently announced a series of summer shows kicking off in the Midwest.
A Midwestern Collaboration
While tDB's spring shows will take the band to states like Colorado and New York, their summer shows promise to startup back in the Midwest. Announced on March 15th on their official Twitter account, tDB's summer 2022 shows will be a collaboration with their long-time pals Umphrey's McGee. Another American jam band, Umphrey's McGee has signed on for the entire summer tour as part of promotions for their new album "You Walked Up Shaking In Your Boots But You Stood Tall And Left A Raging Bull". Originally released back in 2021, this 2022 tour will be the album's delayed but much-anticipated celebration following the pandemic.
As for tDB, aside from being a continuation of their spring shows, this eight-show concert comes as a resumption of their scheduled tours. Like most performers, the band had to shuffle and cancel many planned events due to COVID-19.
Innovation, Streaming, and Live Music
That said, The Disco Biscuits have still enjoyed a relatively productive past two years. While most bands eased up on live performances due to the social and physical restrictions set by the pandemic, tDB found a way to keep performing for audiences. In 2020, after their annual electronic DJs-meet-improvisational rock event got canceled, the band instead participated in the drive-in Pavement Raves. A concert series set in the same venue, these events proved a successful replacement for the popular Camp Bisco. The following year in 2021, tDB organized two Philadelphia concerts as another replacement for that year's Camp Bisco. This time, they co-headlined the concerts with Lotus.
Considering that the quintet is known as one of the most innovative and creative bands out there, it's no surprise they were able to make performances work. Arguably, the band member who's proven the busiest since the pandemic began is guitarist and vocalist Jon Gutwillig. Considered by Conscious Electronic as one of the most influential EDM guitarists, Gutwillig has pioneered some of the most impressive strings work in contemporary jamtronica.
Using his Boss pedals, Gutwillig has been able to carve out synthesized sounds, clean-signal finger work, and rock solos onstage. With the Boss pedals' compact, durable, and versatile capabilities, Gutwillig has been able to create a sound unique to tDB with touches of house, EDM, and jazz. During the lockdown, this talent has been put to work as tDB reportedly began laying the foundation for their newest album. Though no release date has been announced, this new album will mark the band's latest release in a decade.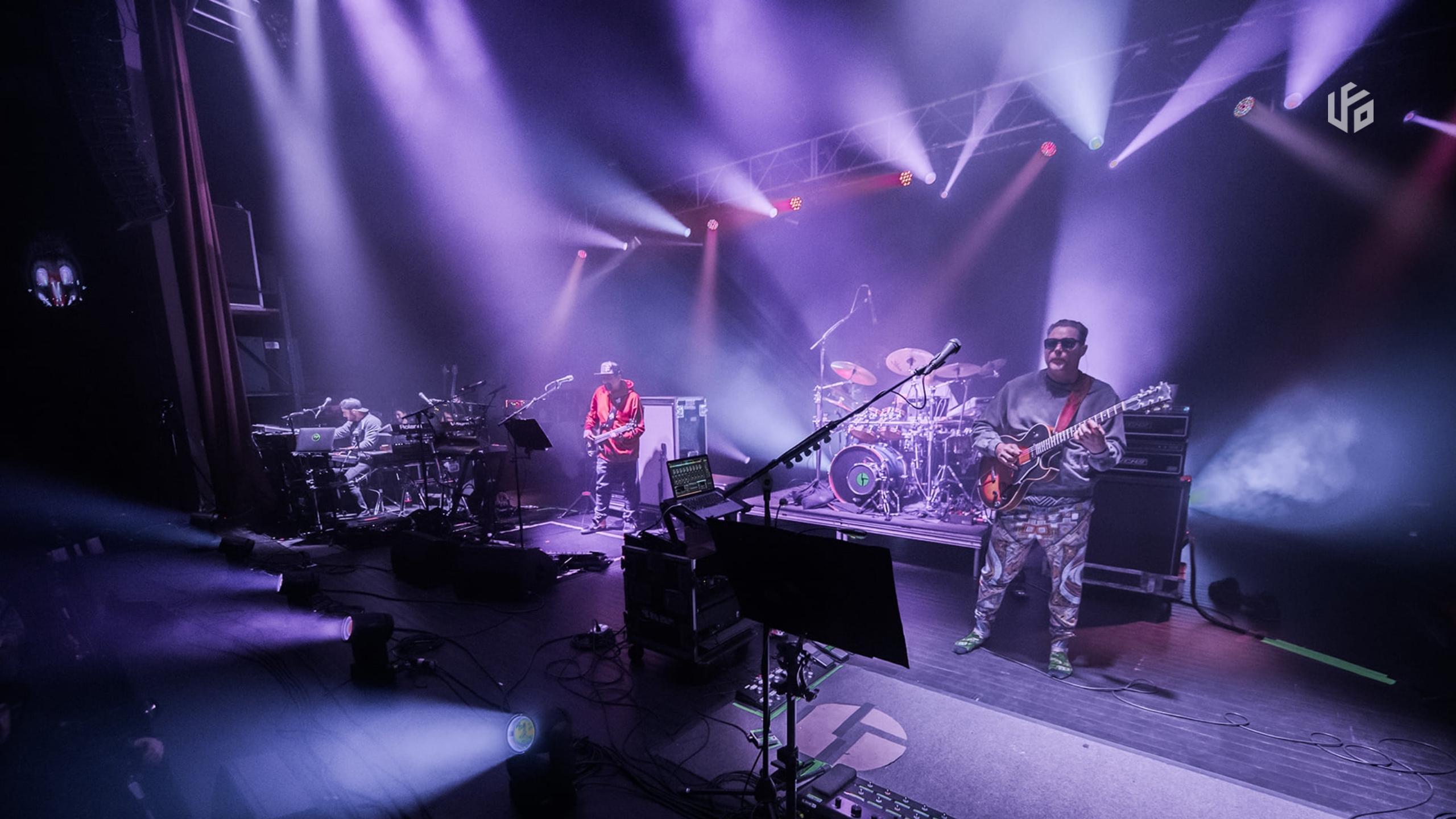 Outside of music, Gutwillig has also kept busy dipping into the booming streaming industry. Introduced in 2020, Couchtour.TV is a live stream service co-founded by the musician. Designed to bring the live concert experience to your home, the streaming service has even integrated audience engagement features. These include a live chat function set to replicate real-life interactions. Though still on its beta testing phase, The Disco Biscuits happily streamed their 10-day drive-in broadcasts through this high-definition platform.
Watch The Disco Biscuits on Tour
This 2022, though, tDB is primed to reinvigorate their live performing prowess on their summer tour. Scheduled to start on June 9th at Bridgeport and end on August 21st at Pelham, tDB's summer tour promises another strong year for unconventional electronic music.
For more on EDM, concerts, and album releases, please visit the rest of Soundrive Music.