Dave Clarke turns in a rare house remix for Joseph Capriati & Eric Kupper ft. Byron Stingily's 'Love Changed Me' in aid of Neapolitan charity Cannavaro Ferrara Foundation.
Landing this July, all proceeds from Clarke's remix will go to the Cannavaro Ferrara Foundation, a charity that supports numerous initiatives in helping families and disadvantaged teenagers in Capriati's hometown, Naples.
Listen on Spotify
'Dave wanted to do a version of 'Love Changed Me', my LP track with Eric Kupper and Byron Stingley, which meant a lot to me. After hearing the spirit of the track, he sent me a house version. Dave Clarke, a genuine techno legend, had honoured me with a house remix. It sends the whole scene a message of musical freedom – never be scared to make art and be free, do what you love. Additionally, Dave is incredibly generous and asked me to donate the proceeds of his remix to charity, so the whole Redimension team and I settled on Foundation Cannavaro Ferrara.' – Joseph Capriati
'I came up through the very early ages of house music, and one of the tracks he sent me really resonated with that early house feel that I had been missing for a while, a purity and simplicity with emotion that had been difficult to find. We spoke about it, and I agreed to do the mix…….then the Pandemic happened. For me, it was really important that I received no fee in light of the worldwide situation but to make sure that the money went through to charity as many people have really had a horrendous year. That is how this remix came about :-).' – Dave Clarke
A poignant remix in light of the two artists' close friendship for over a decade, it's also the latest in a heavyweight lineup of remixes of Capriati's 2019 LP, 'Metamorfosi'. Clarke's remix breathes Balearic bliss into the original, with airy pads, piano licks, and lively percussion sitting under Stingily's soaring vocal performance.
Connect with Cannavaro Ferrara Foundation FCF
Connect with Joseph Capriati
Facebook | Instagram | Twitter

Connect with Dave Clarke
Facebook | Instagram | Twitter | Website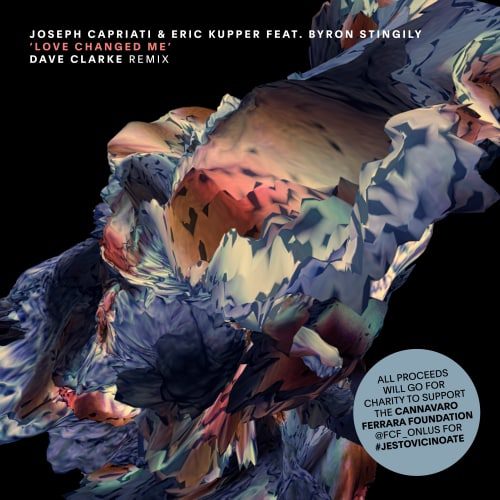 For more amazing content and news by your favorite artists at Soundrive Music, check out our 'News' section
and connect with us on socials to stay updated with the latest in all things EDM!