With a combined skill set of accomplished DJs, producers and musicians, Rhys and Fran have become global favourites, having destroyed dancefloors over 5 continents in far flung destinations. It's these sets that have earned them shows at the biggest and best venues, including three of the top 10 clubs in the world; Octagon (Seoul), Zouk Singapore and UshuaÏa (Ibiza), as well Ministry of Sound, Amnesia, Marquee, Zouk, Myst, Digital & Avalon also in the top 100. They've been championed by the likes of KSHMR, Tiësto, Hardwell, Martin Garrix, R3hab, Sander van Doorn, Firebeatz, Sick Individuals and most notably their label bosses at Smash The House Dimitri Vegas & Like Mike.
EXCLUSIVE INTERVIEW
Tell us about your latest collab "Addiction" with Cuebrick, Angie Vu Ha & IIVES on Maxximize Records, how did that come about?
We released our first collaboration Obliviate with Cuebrick and Angie in Oct 2019; it went Top 10 on Beatport and we have been working on a follow up for a while. We had a cool idea and wanted to make it something super high energy and melodic at the same time.
We all love the final feel on the record; it's got that old progressive house sound but harder around the edges. IIves added the vocal and it finished it off. Then the Blasterjaxx and Maxximize team had a listen and like that we were buzzing. Even after all these years we still love that every time we get another record signed. We love Cuebrick, he's a lovely guy and we have been friends with Angie for years. Plus, we all promo the sh*t out of everything we do, so good teamwork. It's been another Beatport Top 10 as well so we are very happy. There has been a great reaction and love from everyone, which is always amazing.
Listen on Spotify!
If you could change anything in the music industry, what would it be? 
We've learnt so much over the years and my advice to anyone starting their career, would be to leave your ego and bad vibes at the door. Everyone is going to go through their own challenges as they build their name, develop their sound and figure out what works for them as they grow. If you don't have something good to say, say nothing at all – this is golden rule. If you are giving out bad vibes, it will always come back you at some point. Once you start to rise up and make a name for yourself, if you're a nightmare to work with, everyone will know, especially label A+R's and label bosses.
It's very tight, close knit industry when you're dealing with the top labels. We have done collaborations, huge tracks even, then given them to labels, that want to sign but won't as they won't work with certain artists. Finally, if you're on the receiving end of it, act professionally, never bitch or attack people in retaliation. Just let it go; don't bother wasting your valuable time arguing with people.
You have appeared on a few reality shows over the years – what is your opinion on reality tv today as a whole, and would you ever do another reality show? Please dish us one piece of dirt from behind the scenes 🙂
I absolutely loved all the shows I was on. I was the first male to ever win Love island which was insane. I got to live on a beach in Fiji for nearly 3 months while we filmed it. I also came 3rd in I Am A Celebrity Get Me Out Of Here, in the Jungle in Gold Coast Australia which was incredible experience. One of my favorite shows was when I got to drive a '62 Cadillac from Dallas to LA on route 66. I have had very positive experiences with reality TV in general and personally I would recommend it to anyone. It created so many opportunities in my life that I am grateful for.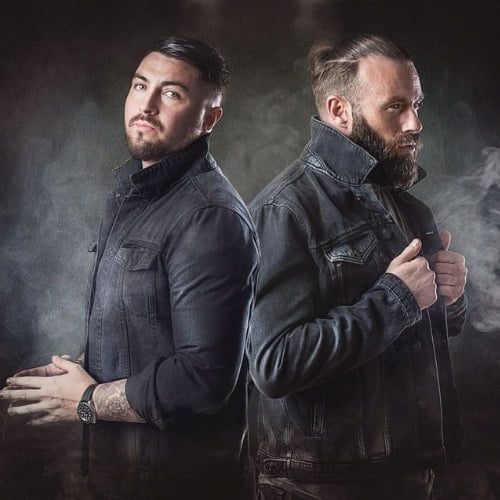 What project would you consider your most significant career accomplishment to date, and what have you done professionally that is not an experience you'd want to repeat?
There have been so many career accomplishments for us over the years; our collab with Fatboy Slim, for instance; watching him play our record all over the world, including Ultra 2013 was amazing. Hardwell playing Back To Earth at Tomorrowland for the first time was incredible too. Every time Dimitri Vegas and Like Mike dropped one of our tracks was another high but especially our Mammoth remix at Tomorrowland, was off the charts. I would have to say the time Dimitri and Mike play 6 of our tracks in one set at Bring The Madness in Sportpaleis Antwerp to a 30k crowd, was insanely cool.
Tell us about your creative process when producing a new track.
So, we usually build a break and drop first. We keep things really basic until we get a vibe, then build from there. We have 100's of breaks and drops on our hard drive that we haven't even used yet. Rhys, the other Bear is a classically trained pianist, so he's amazing at writing riffs, melodies ect. When we pass the project back and forth while we build the track, we are also changing are process and trying new things that way it never gets boring. Nothing feels like that moment when it clicks and you know you have another absolute banger on your hands.
What is something you'd be happy doing every single day for the rest of your career?
Once I am making music, I am happy – simply as that!
What's the best advice you have ever been given? 
You have to treat music as a business, if you want to be successful.
You published your autobiography in 2006, called "Reality Check" – what would you like to add in now in 2021?
I am just finishing off writing a new book at the minute about what I have learnt from travelling the   world, DJing and just how important it is to look after your mental health while pursuing your dreams. I have just finished the second draft and hopefully it will be released later this summer.
Tell us one thing we wouldn't normally find out about you?
I went to my first rave when I was 14 and have been in love with dance music ever since.
What's on the horizon for Futuristic Polar Bears?
We have releases locked and loaded 'til November this year, with tracks coming on Revealed Records, Spinnin records, Maxximize, Smash The House and Protocol as well as our label CMMD records. We only launched 2 years ago and are a Top 20, Big Room selling label on Beatport so we have been very grateful for the support the fans have given us!
Connect with Futuristic Polar Bears
Website / Facebook / Instagram / SoundCloud
Futuristic Polar Bears , Cuebrick & Angie Vu Ha – 'Addiction' (Ft. IIVES) is out now! via Maxximize Records