Simone Celi was introduced to electronic music by his father with tracks like "Art Of Noise" & "Moment In Love." At the time he simply loved listening and collecting as much music as possible, but after few years he decided to make his passion a profession. He started with some residences in famous clubs on the coast of southern Italy, such as the "Bahia Beach Club," which hosted various celebrities such as the Italian singer "Eman" for whom he opened the concert with a selection of HipHop and R&B. He continued his experiences as a DJ working in numerous clubs, both as a resident and as a guest and often also as an organizer. His sounds became more and more electronic, until he started to work with 'Costa Crociere' – the main Italian cruise company, as a DJ on their ships around the world.
At the same time, he entered the world of production going out with his first single, "Waiting," in collaboration with the Norwegian singer "Ratfoot." He just came back to Italy from his last season in Brazil and he's concentrating on the production and release of his new music, awaiting the possibility to come back on tour.
Simone Celi has now Teamed up with PLEXXAGLASS for dark electronic release 'Luce.' However electronic, dark, impressive and deep the sound may be, it is a song that speaks of love, highlighting its key point, the balance that philosophically can be synonymous with light.
Listen to 'Luce' on Spotify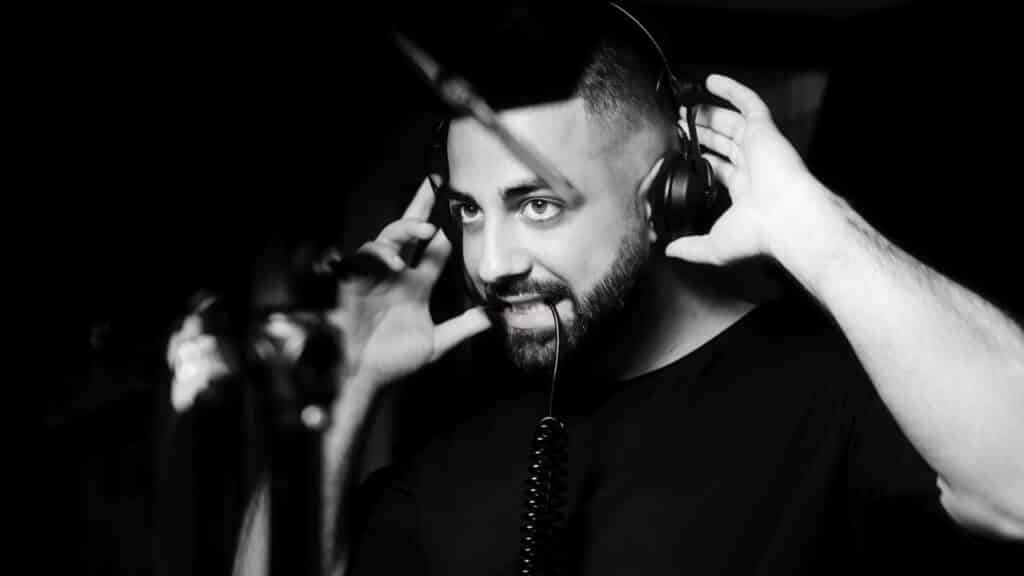 EXCLUSIVE INTERVIEW
Tell us about the first track that put you on the map in the electronic scene and the journey since. How did you get started?
One of the first pieces that literally immersed me in electronic music was "One" by Swedish House Mafia. I remember listening to it at very high volume with my friends imagining we were at their live who knows where and this triggered my almost unconscious desire to become a DJ. I started with school parties and then over the years became a resident in the clubs of my region and ended up traveling the world as a DJ for Costa Cruises. In recent years, the influence of electronic music in my life has increased so much that it has also pushed me to the world of record production which is increasingly becoming my secret dream.
Tell us about your latest project 'Luce'
After talking to you about one of my latest releases as "Luce" I would also like to mention "Invisible" which is actually the first album I signed with Jendex Records that was released last only in chronological order. I am currently oriented towards the production of a subspecies of Progressive or Deep Melodic house and in this context I have made a great collaboration with the singer and producer Luke Coulson for a song that I still cannot tell you when it will come out.
Tell us something we wouldnt normally find out about you?
Even though no one would ever say it and I don't know why, I love cleaning the house and doing all sorts of household chores.
What single night out has been most memorable for you as a dj and producer?
The most memorable night of my life as a DJ producer was definitely my live in Copacabana for the 2019/2020 New Year's Eve where for the first time I also experienced my unreleased productions and bootlegs in front of thousands of people. An unrepeatable emotion.
Give us the name of one track that never gets old for you no matter how many times you listen to it?
I think I could endlessly listen to many songs that have marked my path as a DJ / producer but among these in particular there is "Memories" by David Guetta in featuring with Kid Kudi. A song that always generates amazement and happiness even live.
Dream collaboration and why?
Without a doubt the collaboration of my dreams is with Martin Garrix that I had the honor and the pleasure of hearing for the first time live at Ushuaia in Ibiza. I firmly believe that he has the ability and will to break every rule to take electronic music to the next level and we have already seen it with "Animals" which has literally changed the electronic scene internationally over the years.
If you could play any festival, which would it be?
If I could play at a festival I would definitely choose Tomorrowland and not only because it is one of the most famous and largest in the world but because it is a dream with which I grew up and I have always shared it with my friends and people most of all. care. I create both the maximum aspiration for every DJ and producer in the world.
How do you get a track started? tell us about your production process
Usually I always start with piano chords from which I subsequently extrapolate melodies and bass lines but, everything depends on the type of piece I want to produce. If I think about a purely deep house disc I start with the main percussion and once the rhythm is set I validate it with the bass. In reality my creative process is completely random, it depends on many factors and for this reason I am studying a plan that can direct my creative flow as much as possible thanks to simple and effective tricks such as humming a melody and temporarily recording it on my phone if I'm out of the studio or write down exactly what my piece is missing to be complete by organizing the work in steps to follow.
Latest project? What are you currently working on?
As I told you, lately I have several projects open in the Deep / Melodic and Progressive House. I hope to conclude them as soon as possible so that I can also undertake dance, electronic or anyway productions closer to my lives.
The relationship between a dj and the audience is crucial, and yet is seems to be a fragile one – how do you see the balance between giving the crowd what they want and treating them to something new?
I firmly believe that the relationship between the DJ and his audience or his listeners always depends on the sincerity of the contents and the ability to want to convey emotions. For me it is about finding a meeting point, a compromise just as if it were a real relationship. During my lives I always try to give people what they want but in a form they do not expect, I focus on amazement and surprise to establish memories and emotions in the hearts of anyone and around my console and often when I avoid hiding my emotions people get curious and binds much more and that moment of music and sharing. I don't think there are any songs that don't work, any record could be perfect for any kind of situation if played at the right time and in the right way. Being a DJ or producer is before a job a real form of art and as such there are no real rules or precise schemes to follow, it is about emotions and that is what I always aspire to.
Connect with Simone Celi
Facebook / Instagram / YouTube
Simone Celi (feat. PLEXXAGLASS) – Luce is out now!